Verifone VX805 (Integrated POS)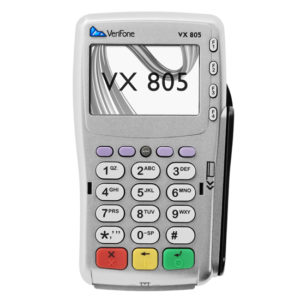 Verifone's VX 805 Contactless PIN pad provides precisely what you need, and nothing you don't. This incredibly convenient payment device allows merchants to process a range of transactions through multiple connectivity options, while offering the latest NFC technology for mobile payments. And, of course, it includes the latest security protections for total peace of mind.
Key benefits include:
The VX 805 PIN pad features a sleek contour and ergonomic design that looks as good as it feels. Intuitive ATM-style interface and large keypad deliver exceptional convenience.
Processing of all transaction types is simple and secure thanks to the latest certifications and EMV compliance. And VeriShield Total Protect delivers end-to-end encryption and tokenization.
With its blazing fast processor, the VX 805 PIN pad can handle even the most complex and demanding transactions in style.
Ingenico ISC250 (Integrated POS)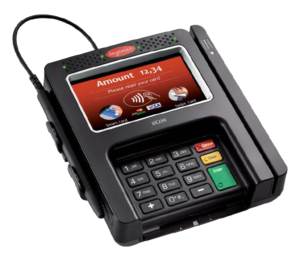 The robust, compact iSC Touch 250 is the multi-lane POS solution that needs just a small amount of space to make a huge impact on customer engagement.
Key Benefits:
Meets the industry's highest and newest hardware and software security requirements and is PCI PTS 3.x & 4.x certified. Complies with SRED and Open protocol modules. Supports all point-to-point encryption (P2PE) solutions for reduced PCI DSS scope.
Accommodates all forms of payment including EMV chip & PIN, chip & sign, magstripe, signature capture, and NFC/contactless. Also supports new options such as NFC loyalty, couponing, wallets and QR codes.
Provides high quality, durable signature capture for electronic payments, receipt storage, and business applications, such as contracts, warranty programs, and enrollments. Authentication with biometric signature is available, including speed and screen pressure for better recognition.
Designed for use in demanding multi-lane environments, the iSC Touch 250 features a glass display that is highly resistant to impact and scratches, with a lifespan of 1,000,000 signatures. Its dual-head magnetic stripe reader reduces read errors, while its smart-card reader withstands 500,000 card insertions. Single-cable multi-point mono connector ensures easy integration & terminal replacement.
The Genius by Cayan (Integrated POS)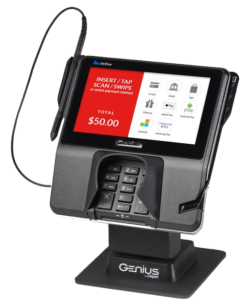 Genius allows customers to pay how they want, where they want, and be on their way quickly—whether it's through lightning-fast chip card transactions or any of the array of mobile payments on the market.
You'll be ready to say "yes" to any and all customer payment requests, because Genius supports:
Credit, debit, EMV/chip cards
Gift cards
Apple Pay
Android Pay
Samsung Pay
Level Up
Industry-specific payment types like HSA and FSA cards, and more.
Counter-Top Terminals (Stand-Alone)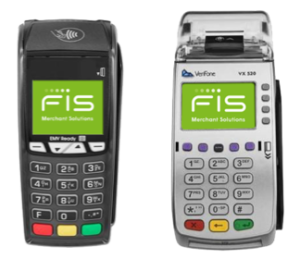 We offer
a variety of countertop terminal options with the latest payment and security developments such as EMV® and nearfield communication (NFC) technology to accommodate every level of merchant needs.
EMV chip card acceptance
Advanced fraud monitoring and security protection
NFC technology support
Multi-application support (Card, Check, Gift, EBT)
Competitive purchase prices and low cost lease options
Point-of-sale deployment, repair, and supply services
Countertop terminal options:
Verifone VX 520, VX 680
Ingenico iCT220, iCT250
PIN pad options:
Verifone VX 805
Ingenico iPP310