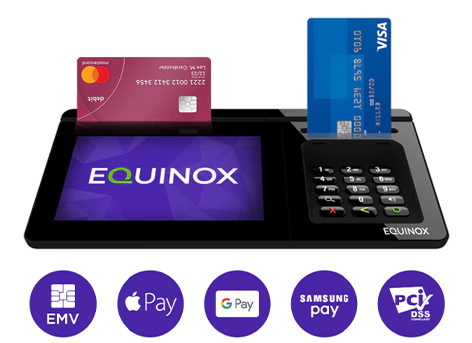 Integrated POS Terminals
Equinox Luxe 8500i – Blockchyp 
The sleek high-gloss finish and crystal-clear display combine to engage customers and enhance the check-out experience. Its compact size, horizontal layout, and top face-mounted card readers optimize overall footprint and eliminate the clutter associated with traditional
mounting stands.
Key Benefits:
High-definition touch display in a five-inch screen size
In-mold decoration technology and backlit hard-plastic tactile keys improve usability
Advertising: Upload graphics, slide shows, or videos on your terminal
Hassle Free Gift System: No processing fees, monthly fees, or per transaction fees
Digital Automation: Store signatures, line item displays, surveys, and donation options
Instant Feedback: Get customer feedback instantly at checkout
An easy setup, powerful merchant portal, and lighting fast transaction speeds make BlockChyp an easy choice for retailers everywhere.
Request additional information. sales@thegeneralstore.com 1.800.678.4535
Ingenico Lane/3000 (Datacap NETePay)
Designed to manage thousands of transactions per day, the Lane/3000 is a cutting-edge retail PIN Pad, ideal for busy retailers. Available in two forms, retailer can choose between a modular or a non-modular version.
Key benefits include:
Tough security
The Lane/3000 is certified and fully compliant with the latest global and local PCI regulations. The Telium TETRA OS has been future-proofed with top-of-the-line cryptography software and Ingenico's world-class peer-to-peer encryption technology to
keep data safe. Designed to be fixed to each lane, Lane/3000 is
equipped with anti-theft systems, such as Kensington locks, to
strengthen physical security.
Designed for retailers
Conceived for an intensive retail usage, the Lane/3000 is featured with a heavy duty magnetic
stripe and smartcard readers optimized to boost transaction speeds. Its very large dedicated
contactless card reader zone speeds up checkout times for customers. With its compact and robust
design , it integrates into any retail environment, including semiunattended retail store kiosks.
Compatible with Ingenico's suite of services
Keeping the solutions connected, the Lane/3000 works in unison with Ingenico's supporting service platforms, meaning retailers will have access to business services such as back office reporting.
Software updates and day-to-day support deliver a hassle-free experience for those using this innovative range.
Ingenico Lane/5000 (Datacap NETePay)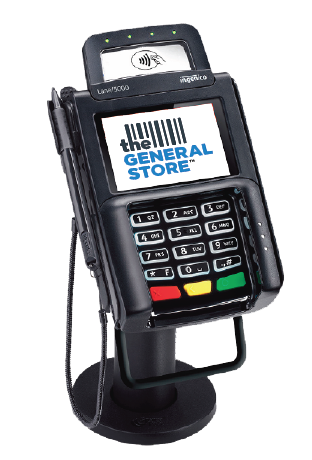 The most advanced designed-for-retail terminal, Lane/5000 combines payment acceptance and
new services to reinforce consumer engagement.
Key Benefits:
Highest security
The Lane/5000 is PCI-PTS 5.x certified. Its Telium TETRA OS uses the latest cryptographic schemes with future-proof key length. Additional anti-theft systems, such as Kensington locks, strengthen security.
All payment options
The Lane/5000 enables NFC couponing and wallet use cases, in addition to EMV Chip & PIN, Swipe & Sign and contactless.
User-friendly and intuitive interface
Featuring enriched multimedia capabilities and a 3.5" color touch screen, Lane/5000 enhances interactivity with consumer during payment and business Apps operations.
Designed for retailers
Conceived for intensive retail usage, the Lane/5000 features a durable signature – capacitive screen, heavy duty magnetic stripe and smartcard readers optimized for transaction speed, and a
multipoint connector for easy integration.
Built-in data capture capabilities
With its camera, Lane/5000 enables alternative payment schemes and unlimited possibilities for
business Apps.
Seamless NFC payment experience
The Lane/5000 makes NFC acceptance easy. Its dedicated and visible reader zone is enhanced with smooth backlit glass. This ergonomic reader offers consumers a seamless
experience while improving retailer efficiency.
Electronic signature
The Lane/5000 features durable signature capture capabilities for electronic payments, receipt storage and new business applications such as contracts, warranty programs and enrollment.
---
Counter-Top Terminals (Stand-Alone)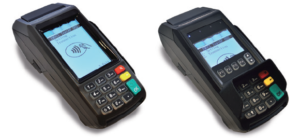 We offer a variety of countertop terminal options with the latest payment and security developments such as EMV® and nearfield communication (NFC) technology to accommodate every level of merchant needs.
Countertop terminal options:
EMV chip card acceptance

Advanced fraud monitoring and security protection
NFC technology support
Multi-application support (Card, Check, Gift, EBT)
Competitive purchase prices and low cost lease options
Mobile 4G Terminal Option available
Point-of-sale deployment, repair, and supply services
Optional Countertop terminal pin pads:
Verifone VX 520
Ingenico iCT220 and Desk 3500
Dejavoo Z8, Z11
Dejavoo QD4
Valor Paytech VL500
PIN pad options:
Verifone VX 805
Ingenico iPP315, Desk 1500
Dejavoo Z3, Z6
Dejavoo QD5